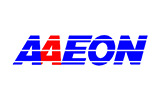 AAEON
As an AAEON distributor, Edge can provide you with the full range of AAEON products including single board computers (SBCs) and LCD panel solutions.
About AAEON Technology
AAEON Technology, Inc. develops single board computers. Its products include embedded single board computers such as compact board, subcompact board, embedded motherboard, central processing unit modules, media personal computer (PC), peripheral module, and phase-out model. AAEON also develops panel appliance and automation solutions, including robust panel personal computer, operator panel, industrial monitor, industrial workstation, sunlight monitor, medical station, vehicle monitor, and embedded controller. The company also offers industrial system solutions, such as industrial chassis/rackmount, industrial chassis/wall mount, industrial motherboard, firewall platform, industrial backplane, daughterboard, and AGP card; accessories and options, including riser cards, daughter boards, wiring kits, solid state disks, cooling fan series, disk drives, membrane keyboards, mounting kits, and control box; ODM/OEM service; and integration services. It provides networking, POS/kiosk, telecom, gaming, machine automation, e-hospitalization/healthcare, intelligent transportation, computer telephony, banking, environment and utility monitoring, and factory automation solutions. The company's products are offered to industrial workstations, panel PCs, display monitors, and LCD PCs, as well as to industrial automation, transportation, and medical fields. AAEON Technology was founded in 1992 and is headquartered in Taipei, Taiwan.
Manufacturer: AAEON
$386.00
Manufacturer: AAEON
$386.00
Manufacturer: AAEON
$315.00
Manufacturer: AAEON
$1,450.00
Manufacturer: AAEON
$1,250.00