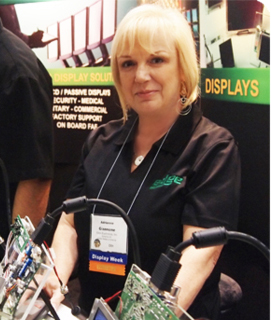 History & Ownership
Edge Electronics was founded in 1990, and has always been at least 51% owned by Adrienne Giannone. Presently, Adrienne serves as the company's President and CEO. She oversees all facets of Edge daily from her office in Edge's Bohemia, NY headquarters.
How Using Women-Owned Suppliers Benefits Corporations
Supply Chain Value
Using diverse suppliers offers a company a chance to add value to their supply chain. Often times diverse suppliers (woman-owned included) will work very closely with a customer to tailor their business to the customer's needs.
The small business mentality of a diverse supplier will often make them more flexible and open to creative business solutions. Sometimes a customer will act as a mentor to the diverse supplier to guide them to be a supplier that fits their business model perfectly. In comparison to standard suppliers, diverse suppliers can often give more attention, work more quickly, and be more cost effective.
Generate Sales
Buying from woman-owned suppliers can help generate sales. Research has found that consumers who know that a company makes an effort to buy from woman-owned, or diverse suppliers are more likely to purchase products from that company. The trick is to have a well organized and respected supplier diversity program, with measurable goals, and to get the word out about the program so that target customers are aware of it.
2nd Tier Diversity Reporting
For many manufacturers it's their customers who encourage them to consider a woman-owned diverse supplier in their diverse supplier base. Whether they are doing builds for the government or large corporations with supplier diversity programs, buying from a woman owned supplier could provide an advantage.
How Being a Woman-Owned Diverse Supplier Helps Edge
It's no secret that being woman-owned has contributed to Edge's success. Over the years Edge has been proud of that fact, and has been successful in many efforts to network with key faculty at corporations that value supplier diversity. Once we are in contact with either the supplier diversity director, or procurement manager, they often allow us the opportunity to pitch the value we can add to their business. Only then, when we find a fit, do we get the chance to partner on a project.
With every project that we get to work on, we are able to demonstrate our superb attention, customer service, and value added solutions, leading our customers to ask us to partner with them on other projects and to introduce us with shining recommendations to more personnel in their company's engineering and purchasing departments.
In summary, being woman-owned has helped us gain key relationships that facilitate the introduction of Edge to potential customers, or grow our business within an existing customer. It has helped to give us a chance to showcase our products and demonstrate value.
Edge is in the Grainger Distributor Alliance program
In order to provide our customers with greater options to fill their MWBE goals, we now offer over 1,000,000,000 industrial products and supplies. Click here to learn more.


Our Woman's Business Enterprise (WBE) Certifications
Woman's Business Enterprise National Council
New York State
New York City
Vendor # VS00011575
MWBE Certification # MWCERT2013-40
Port Authority of New York & New Jersey (PATH NY/NJ)
WBE Certification #: 32483