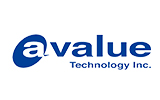 Avalue Technology, Inc
As an Avalue distributor, we can supply you with the embedded computing manufacturer's full line of products including single board computers (SBCs) and panel pcs.
About Avalue Technology, Inc.
Avalue Technology is a professional embedded solutions and services provider. We offer complete product lines ranging from board to system level products including single board computers, COMs, industrial motherboards, touch panel PCs, and barebone systems.
Avalue headquarters in Taipei was established in 2000. Avalue is committed to providing the best service to our customers. Currently, Avalue has built its international branches and distribution network to serve its customers worldwide. We have a local support team based in New Jersey that is readily available to serve you.
With a wealth of OEM/ODM experience, Avalue is capable to quickly transform your ideas into viable computing solutions. Avalue builds each project with its extended services to satisfy the customer's needs. The extended service includes product life cycle management, PCB/Assembly/BIOS revision control, high quality design, manufacturing, and legacy form factor/device support. We provide our customers with a quality product that meets their embedded requirements at a very competitive price.
Avalue is an ISO 9001 certified company. The company is committed to total quality management that applies to a full range of standard products, as well as our design and manufacturing services.
Manufacturer: Avalue Technology, Inc