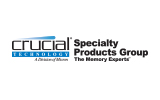 Crucial
As a Crucial distributor, Edge supplies a wide offering of memory products. Crucial is known as a high quality, competitively priced memory supplier to consumers, but they also provide near-direct crosses to Micron modules, and customized modules for demanding applications.
About Crucial
Crucial is a key brand in the Lexar Media family of products. As the Memory Expertsô, we're the only DRAM supplier that's part of a major memory manufacturer.
A wholly owned subsidiary of Micron Technology, Inc., Lexar Media, Inc. boasts one of the most comprehensive offerings of memory product lines in the industry. We deliver high-quality, award-winning products in every memory category: USB flash drives, all popular form factors of memory cards and card readers, DRAM computer memory for PCs and Mac systems, and solid state drives (SSD). We back our products with outstanding customer support and industry-leading warranties, and we strive to expand our offerings to meet the ever-changing needs of our customers ó customers just like you.
The Lexar brand has long been synonymous with reliable, high-performance products, which is reflected in the award-winning memory products and USB flash drives sold under the Lexar name.
Our Crucial brand reflects our status as the only consumer memory upgrade supplier that's part of a major DRAM manufacturer. We sell high-quality memory that has been qualified and approved by most major original equipment manufacturers (OEMs). The crucial.com website features innovative online tools and an intuitive design that makes it easy to find compatible memory and recommended upgrades. And because we carry over 250,000 upgrades for more than 40,000 systems, we've got options for nearly every system out there.
Lexar Media has over 10 years of experience in the memory industry. Our strong retail brands, along with our direct online and OEM presence, make Lexar Media a global player in every major customer channel, including value-added resellers, system builders, and e-commerce. And we've built a name synonymous with quality, innovation, and customer service.
Manufacturer: Crucial
$440.10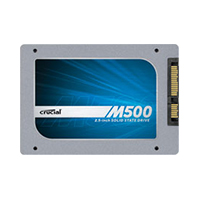 Manufacturer: Crucial