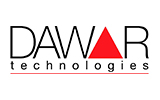 Dawar
As a Dawar Distributor, Edge Electronics can provide you with high quality user interface products and touch screens (with or without integration).
About Dawar Technologies
Dawar Technologies has provided its customers with products creating a first and lasting positive impression for over 120 years. Our credo is "do it right the first time, every time, in whatever quantity our customer needs right now." At Dawar, we are committed to delivering quality products on time, and we guarantee it with proven processes and expert workmanship. Our manufacturing, engineering and graphic design capabilities allow us to produce a large variety of products in both high and low volumes as well as offer prototyping services. We are certified to ISO 9001:2008 standards and dedicated to continuous and total customer satisfaction.
Dawar's vision is to be the leading provider of user interface products through superior customer service and maximum support in technical and graphic design, process control, and continuous quality improvement.