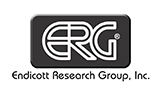 Endicott Research Group
As an Endicott Research Group (ERG) distributor, Edge provides solutions for powering your LCD backlighting. ERG manufactures CCFL inverters and LED driver boards specifically designed to work in display backlight applications. We can help you pick out your ERG product along with an LCD or match the inverter or LED driver to your preselected display. Contact Edge today and let us know how we can best serve you.
About ERG
ERG, Inc. offers the industry's widest range of DC-AC inverters for powering backlit flat panel displays. We support all major manufacturers of CCFL- and EL- backlit LCDs, and offer a broad array of standard and custom solutions. We don't just sell display power supplies, we provide display power solutions.
ERG has been matching DC-AC inverters to backlit LCDs since 1979 for customers in the USA and around the world. We design and manufacture our own magnetic components, and we understand the importance of designing in the right power supply when you're designing your display.
Manufacturer: Endicott Research Group
$43.25
Manufacturer: Endicott Research Group
$28.50
Manufacturer: Endicott Research Group
$9.25
Manufacturer: Endicott Research Group