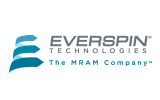 Everspin
Everspin Technologies, Inc. is the global leader in developing and manufacturing integrated magnetic products including stand-alone and embedded Magnetoresistive Random Access Memory (MRAM) and integrated magnetic sensors. Everspin is the world's first volume MRAM supplier and continues to lead the industry in advanced MRAM development including high density spin torque MRAM.
Everspin delivers the most reliable, high-performance, and cost-effective non-volatile random access memories in the market, enabling customers to provide unique and highly competitive products.
With roots in Freescale Semiconductor, Everspin is an independent company with headquarters and wafer fabrication facilities in Chandler, Arizona. In 2006, Everspin launched the industry's first commercial MRAM product. Today, Everspin MRAM is broadly used in data storage, industrial automation, gaming, energy management, communications, transportation, and avionics.