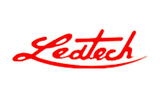 Ledtech Electronics Corporation
As a Ledtech distributor, Edge supplies several types of LED products, including High-Bright and Ultra-Bright LED lamps, and LED displays.
About Ledtech
Ledtech Electronics Corporation was founded in 1977 and has always been dedicated to the production of quality LED lamps and displays. Our motto is "honest, responsible and constantly improving." We persistently foster our own personnel, develop new products, and upgrade our production facilities in the vigorous efforts to satisfy our customers' needs. We are committed to serving the global market, providing the highest professional quality LEDs, and strengthening core technology and value. Our primary objective is to provide quality products, and superior customer service.