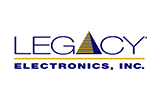 Legacy Electronics
As a Legacy Electronics distributor, we can provide you with their extensive line of memory products, including DRAM memory modules, solid state drives, and flash cards.
About Legacy Electronics
Legacy manufactures their products at their headquarters in Sioux Falls, South Dakota – meaning all Legacy products are made in America. Their engineers are located there as well. This geographic advantage for US customers, leads to quick response time and a very high level of support.
Legacy prides themselves on doing custom work that meets the exact needs of their customers. Yes, they have a standard line of products, but they go by the mantra of, "you dream it, we'll build it." And with their advanced technology, such as their patented memory stacking Canopy® system, they can make some impressive custom memory modules.
Legacy is a premier partner of CMTL (Computer Memory Testing Labs), so you know you are getting compatible, high quality product.