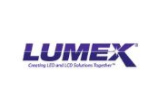 Lumex
As a Lumex Distributor, Edge supplies a wide range of LED products, including LED lamps, LED indicators, LED displays, LED backlights, infrared emitters and detectors, gas tubes, and light pipes. We also offer passive LCD displays (character, graphic, and numeric) and small active-matrix LCDs as well.
Lumex has an extensive team in the US and is known for having excellent customer service. Quote turnaround is exceptionally quick on standard LED items, lead times are better than industry average, and expedites are handled quickly and accurately. Engineering support is always readily available.
Their LED technologies are constantly evolving in response to and in anticipation of customer needs. If you have an idea for a custom LED or passive LCD product, they should be the first manufacturer you turn to. Use Edge as your Lumex distributor and we will work closely with you to develop the perfect LED solution for your application.
About Lumex
As the most recognized brand in the market, Lumex has been renowned as a world leader in optoelectronics. Lumex has a rich history of outstanding customer service, dedication to technical expertise, and an extensive and ever-growing line of opto products. For over 28 years, the name Lumex has become synonymous with quality.
Lumex offers thousands of high efficiency, state-of-the-art optoelectronic components, devices, and display solutions (with an emphasis on semi-custom and custom display solutions). Since its inception in 1980, Lumex was established as a global organization offering application-specific solutions, but with the manufacturing efficiencies normally associated with volume operations.