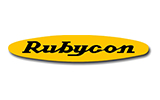 Rubycon Corporation
As a Rubycon distributor, we supply Rubycon's full line of capacitors and power supplies.
About Rubycon
Rubycon has a wide lineup of capacitors including aluminum electrolytic capacitors, conductive polymer aluminum solid electrolytic capacitors (PC-CON), electric double-layer capacitors, film capacitors, and Polymer Multi-Layer Capacitors (PMLCAP).
Rubycon has also leveraged their proficiency with capacitors to enter the business of manufacturing power supplies. Rubycon power supply units include standard, DC-output sustaining, module, and custom variations.