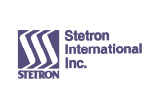 Stetron International, Inc
As a Stetron distributor, we supply Stetron's full line of audio products including transducers, piezo benders, and speakers.
About Stetron
Established in 1965, Stetron pioneered the concept of delivering "value" by utilizing Asian based manufacturing complimented by North American product engineering. The result – technically advanced products at truly competitive prices. This formula enables Stetron to provide customized audio solutions at standard product price points.
Stetron is dedicated to the customer's experience and is continually evaluating how to improve it. Our engineers and technical sales staff constantly strive to improve the quality and effectiveness of our products and services.