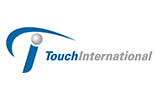 Touch International
As a Touch International distributor, we supply their full line of touch screen products. We can supply them separate or integrated with one of our many LCD options.
About Touch International
Touch International is a global touch screen manufacturer and leads the touch screen industry with advanced touch technologies, custom touch screen designs, and display enhancement solutions. Touch International is a supplier of high-quality touch sensors and touch screen components to Original Equipment Manufacturers (OEMs), System Integrators (SIs), and Value-Add Resellers (VARs) for applications in the medical, industrial, military, aerospace, retail, and gaming industries.