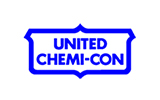 United Chemi-Con
As a United Chemi-Con (UCC) distributor, we supply UCC's full lineup of capacitor products.
About United Chemi-Con
As wholly owned subsidiary of Nippon Chemi-Con, United Chemi-Con is the largest manufacturer and supplier of aluminum electrolytic capacitors in North America. Established in the United States in 1970, United Chemi-Con distributes more than 8,000 products - including products manufactured by United Chemi-Con's manufacturing plant located in Lansing, North Carolina, as well as other capacitors manufactured worldwide by NCC and its subsidiaries.
United Chemi-Con offers complete engineering and sales support at its corporate headquarters in Rosemont, Illinois -- as well as sales, service and field engineering support at other sites throughout the country. All United Chemi-Con products - including American-made products and products manufactured in other parts of the world - are warehoused in Brea, California and Lansing, North Carolina - ensuring fast and efficient delivery on every order.
New and improved United Chemi-Con products include our solid conductive polymers, and aluminum; high temperature and high-vibration resistant capacitors; industry-leading multilayer ceramics with radically improved Y5U and new X5R and X7R dielectrics; and capacitors for electronic ballasts, automotive modules, computer equipment and many other applications requiring low impedance, very low ESR, high voltage and long life. These focus products are available in surface mount, radial or snap-in style and, depending on the series, use either environmentally-friendly materials as the standard or as an option - reflecting our ongoing goal to meet environmental standards for all our products. In addition to electrolytic capacitors, we also manufacture a wide range of film capacitors and an established line of metal oxide varistors.
United Chemi-Con (UCC) is a wholly owned subsidiary of Nippon Chemi-Con.