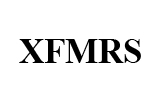 XFMRS, Inc.
As an XFMRS, Inc. distributor, we supply their full line-up of LAN, telecom, inductor, EMI suppression, COMBO, and, transformer products.
About XFMRS
XFMRS, Inc. is a global company dedicated to creating and providing quality magnetic components to customers at a competitive cost. Manufactured magnetic products consist of audio, chokes, converters, current, filament, flyback, inductors, hybrid, input, inverter, isolation, linear, output, pulse, power, rectifier, switching, high voltage, impedance matching, and wide band and high frequency (IF and RF).
XFMRS' North American manufacturing facility is located domestically in Indiana, and works in conjunction with multiple manufacturing facilities off-shore to allow for the fulfillment of quick and large volume orders. XFMRS serves the telecommunications, computer, photo, automotive, security, consumer electronics, and other related markets by providing them with specially designed magnetic components to meet their needs.
XFMRS works very closely with their customers to develop custom parts for each specific application.