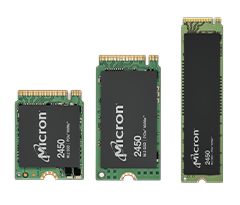 Introducing the Micron 2450 NVMe SSD. Optimized for next-generation mobile and agile computing, the Micron 2450 series of solid state drives delivers value and flexibility, making it versatile for anything from entry-level configurations to more demanding applications.
The Micron 2450 Series is available in 22mm x 80mm, 22mm x 42mm, and 22mm x 30mm M.2 form factors.
Features & Benefits:
Offers a wide range of capacities from 256GB to 1024GB
Low power consumption (of less than 30mW during slumber)
Listed on the Intel Modern Standby Partner Portal Platform Component List and meets the open labs' SSD test requirements of Intel's Project Athena
Engineered for a "worry-free" battery life, making it easy to go unplugged whenever, wherever
2450 SSD With NVMe
Ready to talk SSD solutions?