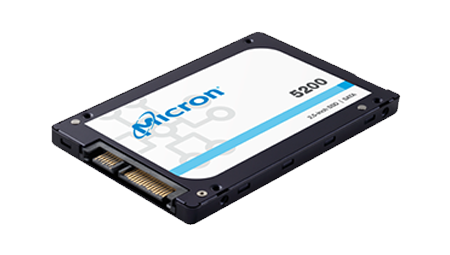 "Built on industry-leading 3D NAND, the Micron 5200 series of SATA SSDs makes the data center transition to flash storage easier than ever before, delivering leading performance, capacity, and infrastructure value for business-critical, virtualized workloads that are crippled on a hard drive."
Micron's 5200 series of SATA solid state drives (SSDs) is the upgraded, high-performance line of the popular 5100 series SSDs - known for their ability to store large amounts of data. With capacities of up to 8TB, and three different models (ECO, PRO, and MAX), the 5100 was already a leading choice for optimal performance and endurance when dealing with complex workloads.
Download the Micron 5200 SATA SSD Product Brief
Features & Benefits:
Uses Micron's proven 96-layer 3D TLC NAND technology to increase the density and capacity while controlling costs and power usage
The same proven architecture of the Micron 5100 SSD, but on industry-leading 64-layer 3D NAND
Optimized for business-critical, virtualized workloads
2.5-inch form factor in capacities up to 7.68TB
Adjust the drive's endurance, performance, and capacity with the Flex Capacity feature
Includes AES 256-bit encryption, end-to-end data path protection, power loss protection, secure firmware, and 5-year warranty
Interested in learning more about the 5200 series or any of the other SATA SSD solutions avaialble from Micron? Reach out to speak with our Micron FAE about your latest project.
Looking for something a little different? Check out our Micron SSD Guide for an overview of all the currently available Micron SSD Series.
Series Part Numbers: