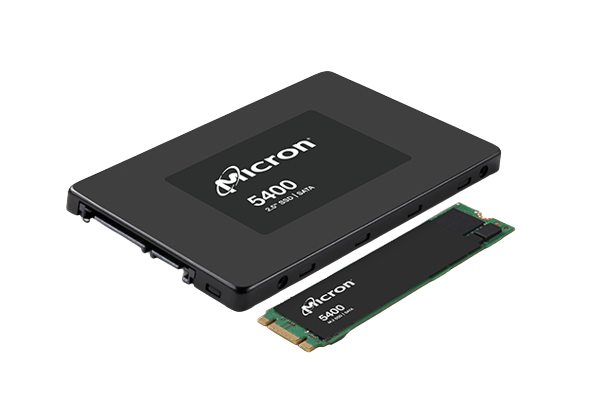 Introducing the new Micron 5400 SATA SSD - the world's first 176-layer NAND SATA SSD. As the most advanced SATA SSD in the industry, the 5400 series is designed to help meet customer's diverse storage needs. The 5400 combines Micron's already proven data center SATA architecture with its advanced 176-layer NAND, making for an exceptional user experience.
With a MTTF (mean time to failure) rate of 3 million device hours and a 50% greater endurance than other leading SATA SSDs, the 5400 series provides the broadest portfolio of SATA SSDs that are suited for data centers.
The Micron 5400 Series is available in the M.2 form factor (22mm x 80mm) and 2.5-inch 7mm sizes, and comes in several capacities ranging from 240GB to 7.68TB. Be sure to take a look at the parts below to see the available specifications and contact us to speak with our Micron FAE or a sales expert for personal assistance selecting the best drive to meet your read-write requirements.
Transitioning from the soon-to-be EOL Micron 5300 SATA SSD? Our Micron 5300 to 5400 Transition Guide details the transition from the 5300 series to the new 5400 series and makes it easy for you to select a 5400 drive with helpful conversion tables.
Not sure if the 5400 is the right fit, or looking for a NVMe SSD? Edge Electronics is an authorized distributor of storage solutions by Micron. Visit our Micron SSD Guide for an overview of all the currently available Micron SSD series.

Features & Benefits:
Offers best-in-class mixed-use write performance
Proven and stable architecture trusted for generations by all major server OEMs
Provides industry-leading reliability MTTF rating that is 50% higher than other leading SATA SSDs
Backed by Micron's standard 5-year data center SSD warranty
5400 SATA SSD