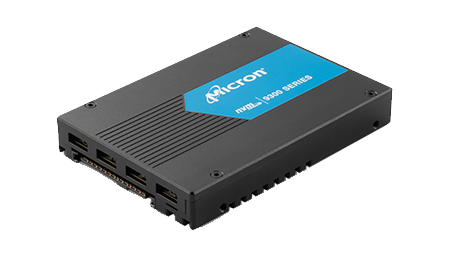 "The Micron 9300 series of SSDs delivers industry leading NVMe SSD performance in all four corners, and a consistent 3.5 GB/second speed for reads and writes. NVMe flash protocol puts storage closer to the CPU, to reduce latency, improve virtually all the flash storage metrics over hard-disk drives, as well as SATA and SAS flash, and increasing the number of parallel sessions for a single storage device."
Download the Micron 9300 NVMe SSD Product Brief
Features & Benefits:
Industry-leading sequential write performance with the lower average write
Consistently reads and writes at 3.5 GB per second (sequential data)
Optimized for performance-critical workloads
Flex Capacity feature
Fewer drives to achieve more: may lower your license/power costs and save on rack/floor space
Same proven architecture as the Micron 9200 SSD, but with new NAND
Includes AES 256-bit encryption, crypto erase, end-to-end data path protection, enterprise power loss protection, up to 5-year warranty
U.2 form factor (15mm) in capacities from 3.2TB to 15.36TB
"The Micron 9300 performance series of SSDs offers capacities once claimed only by HDDs. Ranging between 3.2TB to 15.34TB, the Micron 9300 performance series of SSDs satisfies even the most storage-hungry use cases. Using the Micron 9300 high capacities is more efficient, with up to 32 NVMe namespaces."
Ready to talk NVMe SSD solutions? Contact us to speak with our Micron FAE about meeting your project requirements.
Looking for something a little different? Check out our Micron SSD Guide for an overview of all the currently available Micron SSD Series.
Series Part Numbers:
9300 PRO - Read-Intensive, 1 Drive Write per Day (DWPD)
9300 MAX - Mixed-Use, 3 Drive Writes per Day (DWPD)