Faster delivery on Drop-in replacements for Mean Well AC-DC power supplies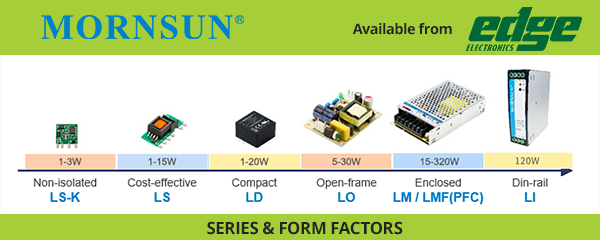 One of the product line shortages affecting the electronic component industry has been AC-DC power supplies. Mean Well is a widely used AC-DC manufacturer that Edge has been successfully cross-referencing from and providing alternates to our customers.
Edge has been able to support customers facing this issue relatively quickly by introducing Mornsun. Mornsun's AC-DC power supplies can are much more readily available than other industry names and are drop-in replacements for many power supply manufacturers, such as Mean Well.
If you are having trouble getting deliveries from Mean Well or other AC-DC power supply manufacturers, reach out to us to let us offer you a competitive quote that will hopefully ease your delivery issues.
This downloadable file - Mean Well Replacement AC-DC Power Supplies available from Mornsun has a list of Mornsun power supplies with specs that are direct drop-in replacements for over 290 Mean Well Power supplies.
It includes, AC-DC Open Frame, Enclosed, Din Rail, and Module power supplies.
Take a look and let us know which one you might be interested in, or just send us the part number of the product you would like to cross-reference and we would be happy to do the work for you.
Speaking of shortages, we at Edge pride ourselves on partnering with customers to solve this key issue. As a smaller distributor offering very personalized service, we are able to be creative to mitigate shortages across many product lines, not just power supplies. Let's talk about your inventory challenges and come up with something to help your lines keep running.
Ready to learn more about MORNSUN power solutions?