Digital View's New eDP LCD Controller
Digital View will be at the Los Angeles Convention Center for SID Display Week 2018 from May 22-24. Visit them at Booth 514!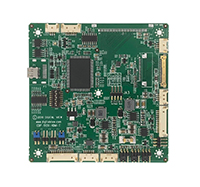 Digital View has announced that they will be launching a new LCD controller solution during Display Week this year. The DD-1920-HDMI-EDPT LCD controller has been designed to support eDP panels. It is a general controller solution that can support LCD panels with a resolution of up to 1920x1200. It has a low signal latency from input to output signal and is a compact HDMI input.
Features & Benefits:
LCD support up to resolutions of 1920x1200
eDP panel connectivity
HDMI 1.4 input
4mm thick
Visit Digital View's DD-1920-HDMI-EDPT page for more information.
Edge Electronics is a proud authorized distributor of Digital View's LCD controller boards, accessories (compatible with our line of TFT-LCDs), media players, and digital signage solutions. Take a look at out our Complete LCD Solutions Page to learn about some of the FHD and other display solutions we will be demoing at Display Week, Booth 415.