Digital View Releases the HSP-1920, a New Harsh Environment LCD Controller
The HSP-1920, a new LCD Controller for harsh environments by Digital View, is available now!
An Industrial LCD Controller Made to Withstand the Worst
Digital View's new HSP-1920 is the more durable version of the
SP-1920 LCD controller. It is the latest and greatest in supporting input and panel activity for video signals up to 1920x1200.
The HSP-1920 LCD controller features a built-in H.246 media player, making it an ideal candidate for commercial monitors and other digital signage applications. If the main source fails, this media player can be used as a failover device - a key benefit for signage that is constantly on display.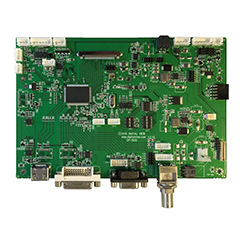 The HSP-1920 also appeals to the legacy industrial market because of its composite video input.
A few additional features of the HSP-1920 to highlight are some of its auto and user controls including an auto source seek, auto picture setup, auto color gain, manual clock and phase options, and image orientation options.
Features & Benefits:
1920x1200, 10-bit panel support
LVDS connectivity
Inputs: HDMI (x2), DVI (x1), VGA (x1), Composite (x2), Component (x1)
Integrated H.264 media player / failover
Different power in for high power panels
RS-232 control, IR remote control
Wide selection of connection cables & accessories
Visit Digital View's HSP-1920 product page for more information.
For questions regarding the HSP-1920, please feel free to contact us. Our LCD Solutions Specialists would love to talk to you about your projects and any application needs you may have.