Edge Electronics' President & CEO, Adrienne Giannone, Receives 2017 LISA Award
On October 16th, 2017, the Long Island Software & Technology Network (LISTnet) hosted their sold-out LISA event at the Garden City Hotel in Garden City, New York.
Edge Electronics' President and CEO, Adrienne Giannone, was a recipient of the 2017 Long Island SummIT Award (LISA). This is awarded to those who have succeeded in establishing themselves in their industry. Adrienne continues to be the driving force behind Edge's success. She is responsible for Edge's fundamental values - a smaller, community-oriented small business with excellent customer service skills and big business capabilities - a combination that is exclusive to only the best!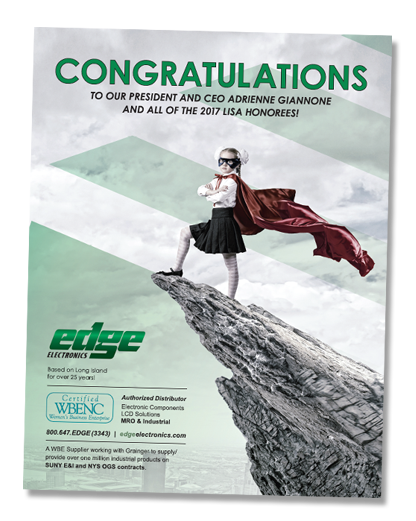 We are proud of Adrienne and her accomplishments so far. We are looking forward to seeing what LISTnet has planned for 2018 to facilitate growth and networking in the industry, as well as Edge's agenda moving forward.
We would also like to express some special congratulations to the rest of the LISA 2017 honorees, as well as the 2017 Diamond Award recipient!
Check out the 2017 SummIT Award article featured in the Long Island Press!

Adrienne Giannone receives her LISA award from LISTnet President and Chairman, Peter Goldsmith (left) and Vice President Paul Trapani (right) | Adrienne Giannone gives a speech before receiving her LISA award | The Edge Electronics team at LISA 2017 (Photos by Bob Giglione)