Custom Touch Screen LCD Kit Solution to Replace Outdated Industrial Display (CUSTOMER SUCCESS STORY)
Edge Electronics and Digital View (an industry leading LCD controller board manufacturer), are exhibiting alongside one another at SID Display Week 2019 to highlight the benefits of our complete, custom LCD kit solution design and refresh program for industrial applications (and more)!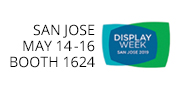 OEMs are often looking for very targeted solutions and can benefit greatly from a partner with the technical expertise and experience to help select the best LCD for their application. Throughout the project development process, Edge customers and their engineers enjoy a transparent workflow and quick, efficient customer service and support in choosing the best LCD with the most beneficial components to meet their project's requirements.
In the weeks leading up to the show, we will be releasing a number of customer success stories to highlight different ways OEMs working on LCD designs can benefit from our display expertise.

In one such case, a manufacturer of control consoles reached out looking for a complete solution to replace their existing monochrome panel display. The OEM was looking for a complete visual overhaul of their existing product line. To modernize their design, we suggested updating their end product with a color display and touch screen integration. In addition, to help the customer avoid costly bi-annual redesigns, we focused on industrial LCD panel and controller pairings that would remain in production for a minimum of 5 to 7 years. This requirement eliminated roughly 90 percent of the manufacturers in the LCD and controller industry.
Within 24 hours, the customer had three separate demos (6.5", 7", 8.4") to compare - all keeping the key requirements in mind. These demos are all "Plug-and-Play," and designed to work immediately. All demos utilize Digital View's complete line of universal LCD controller boards for easy testing and development.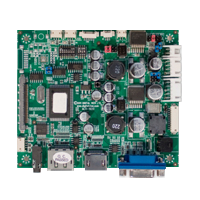 After a testing process that compared competitive offerings, the customer selected our 7" WVGA and Digital View controller kit offering as the ideal solution. The next step was a touch screen selection process that yielded a PCAP touch screen that fit the application perfectly.
The final custom LCD kit (under a single part number) included a 7" WVGA Tianma panel with an optically bonded PCAP touchscreen, Digital View's ALR-1920 LCD controller board, and the required cables.
The completed kit was everything the customer required to move to production easily and efficiently!
The redesigned assembly has been greeted with enthusiasm, and sales have increased by 20 percent over previous forecasts.

Are you attending SID Display Week 2019? Visit us at Booth 1624 to take a look at the selection of demos and kits we have on display!
To schedule a meeting, please call 800-647-EDGE (3343). See you in San Jose!
If you are not attending the show, feel free to contact an Edge Electronics sales representative or engineer to request to see a demo or discuss your unique project requirements.
Stay tuned for our upcoming Customer Success Stories as part of our lead up to Display Week 2019. We will link to them here as they become available.