Keeping the Edge: A Distributor Story by Micron
Edge Electronics "Keeping the Edge" - as featured on Micron?s intranet.
A women's business enterprise does big business with a small business mindset

Micron Technology, Inc
Small business mindset. These three words are what make authorized distributor Edge Electronics stand out from its competitors.
As Edge owner, president and CEO Adrienne Giannone puts it, "We become partners with our customers - from small design houses to some of the largest electronics manufacturers in the world - by working closely with their engineering, purchasing, sales and corporate departments."
Giannone believes that small business mindset has made Edge stand out since its founding in 1990. She says, "We add value with creative solutions, cost efficiency and agility. Many of our customers act as mentors, molding Edge into what is most beneficial for them. That makes for great partnerships."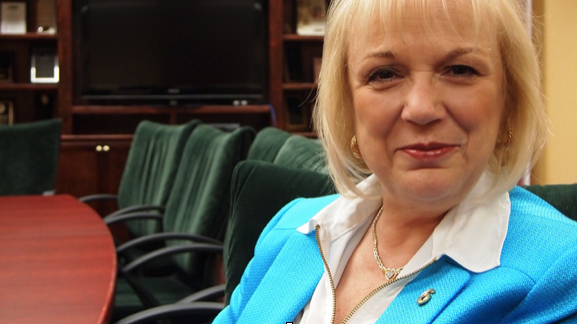 Edge takes a different approach
An example of Edge's small business mindset is how it recently pipelined Micron's 9300 series NVMe SSDs. Taylor Aikenhead, Micron regional distribution sales manager, works closely with Edge and notes that these are expensive, hard-to-get drives. When supplies are limited, lead times for these drives can be significant. Aikenhead explains, "Some of our distributors struggle with being prepared for customer demand because they fail to adequately pipeline product in times of constraint."
But Edge took a different approach. According to Aikenhead, "They got ahead of this issue by back-ordering so they could have available stock. They were able to land deals since they had the pipeline when they received orders," he says, adding, "That's the kind of customer focus we see at Edge."
Edge values and grows relationships
"For us it's about relationships, relationships, relationships!" says Giannone. "We're a woman-owned business, and we put a lot of effort into relationships. Everything flows from that."
And it works. In fact, the New York-based company has been ranked 30th among U.S. distributors by Purchasing.com and recently earned the distinction of "elite supplier" through Lockheed Martin's Rotary and Mission Systems Elite Suppliers Program.
Edge is also a certified Women's Business Enterprise, which adds value to the supply chain by providing Micron access to companies and government entities that require this certification.
Aikenhead explains, "The difference is striking. Edge makes their customers really feel important. They offer exceptional service in sales, customer service, and operations." He adds, "It helps that it's a great place to work - there's very little turnover."
Partnering with Edge fosters diversity
Edge Electronics is just the kind of business that Micron looks to engage with as part of its diversity, equality and inclusion (DEI) program.
"Micron is passionate about fostering greater diversity within our company," explains Sharawn Connors, Micron vice president of DEI.
But, she points out, being successful takes more than diversity. "The key is inclusion. Ideas are the foundation of our business, and the best ideas only emerge when you create an atmosphere where all voices can be heard. If you have diversity but people don't speak up, you lose the benefit of that diversity," she says.
And this focus includes our outside engagements.
"We don't give preferential treatment to anyone, but we're leveling the playing field so that all suppliers have an opportunity to compete fairly and are knowledgeable about the competitive bidding process. One way we are working to accomplish this is by expanding our engagement with diverse-supplier advocacy organizations, Connors says, adding, "As part of our commitment to equality, Micron's supplier diversity program aims to build mutually beneficial engagements with minority, woman, veteran, service-disabled-veteran, LGBTQ+, and disability-owned businesses, and our engagement with Edge Electronics is a great example of this."
Leadership and tenacity are key to our partnership
Micron's 20-year relationship with Edge has flourished because of Giannone's tenacity.
Aikenhead says of Giannone, "She has a great reputation as a leader and communicator. And it shows - our teams work closely on high-level sales strategies, all the way to the nitty-gritty operational level." Because of this, he says, "Edge is an ideal engagement."
About Micron Technology, Inc.
We are an industry leader in innovative memory and storage solutions. Through our global brands - Micron and Crucial - our broad portfolio of high-performance memory and storage technologies, including DRAM, NAND, 3D XPoint memory and NOR, is transforming how the world uses information to enrich life. Backed by more than 40 years of technology leadership, our memory and storage solutions enable disruptive trends, including artificial intelligence, 5G, machine learning and autonomous vehicles, in key market segments like mobile, data center, client, consumer, industrial, graphics, automotive, and networking. Our common stock is traded on the Nasdaq under the MU symbol. To learn more about Micron Technology, Inc., visit micron.com.