New Adjustable Power Supply Components by Mornsun
New adjustable power supply components by Mornsun available now.
A strong and reliable power supply is an integral part of almost every type of electronic product our customers design and produce. Mornsun, one of our major authorized manufacturers of converters and power products, recently released their new HO1 Series of high-voltage output power supply components, as well as some additional new and improved power solutions.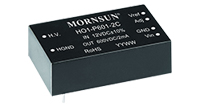 The HO1 Series
The HO1 Power Supply Series features a number of operating improvements that set these models apart from others – specifically the 1.2W DC/DC Converter. Adjustable output voltages are available from 200V to 1200V, as well as a continuous 0-600V output with linear adjustable function. The operating temperature ranges from -40C to +85C while maintaining full function and reliability. The HO1 Series models are all highly environmentally resistant, includes short circuit and over-current protections, and are less sensitive to electromagnetic interference. Industrial/medical testing and measurement applications as well as surveying, sensing, and scanning operations will benefit the most from an H01 converter.
Other new available products include a 3W AC/DC Converter (90-528V input 3-phase 4-wire electric power supply LD03-16Bxx) and a 100W DC/DC Converter (18-75V input DC/DC converter URF48-QB-100WR3).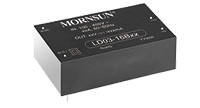 3W AC/AC Converter
The 3W AC/DC converter is ideal for any solar, metering, or power distribution applications. It is dual-use, highly reliable, and extremely stable (at a great temperature range). Learn more about Mornsun's Small Dimension LD Series.
100W DC/DC Converter
The new 100W DC/DC converter boasts up to 94% efficiency, a five-sided metal shielding package, over-current, voltage, and temperature protections, and more. This converter is recommended for use within the transportation industry, especially the railroad system, as well as other largescale industrial control applications.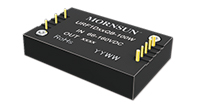 Learn more about Mornsun's products.
Mornsun samples are available through Edge to customers with qualified accounts. Please contact us with questions or to request samples.