Save Energy in Your Power System Design with Mornsun's Higher Integrated R3 Series of Fixed Input DC-DC Converters
The best power supply devices are the ones that exceed energy efficiency standards.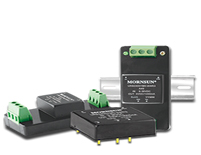 These highly integrated converters by Mornsun are designed with high light-load efficiency, low no-load power consumption, and large load capacity to meet the needs of the most demanding power applications. Below, we highlighted some of the more specific details.
Features & Benefits:
40% higher integration of internal components
Lower no-load power consumption
Higher light load efficiency
20% higher than Mornsun R2 series
Carefully set controlled output voltage yielding less temperature rise
Full range of short circuit protection
Continuous recovery
Less than 5mA short circuit current
Better capacitive load
Meets C-C mode start up requirements
Edge offers a wide selection of single, dual output, isolated, and non-isolated DC-DC power modules by Mornsun.
Visit Mornsun's website to learn more and check out the R3 Series Selection Guide.
Contact us to speak to a power expert about the best converter for your specific project.