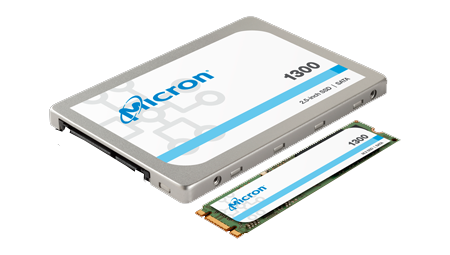 "A highlight in the ongoing changeover from legacy hard drives to flash storage, the slim Micron 1300 SATA solid state drive (SSD) makes the fast performance and endurance of 3D NAND technology for client computing even more accessible. Its Micron-architected, 96-layer TLC SSD design improves density to deliver capacities up to 1TB (in M.2) and 2TB (2.5"), with advantageous price-to-performance ratios. The familiar SATA interface enables a graceful transition from legacy media. For data security, the Micron 1300 SSD protects valuable data with asynchronous power-loss protection for data-at-rest, adaptive thermal monitoring, and optional Opal 2.0 self-encryption, with power efficiency to extend mobile use."
Download the Micron 1300 SATA SSD Product Brief
Features & Benefits:
Uses Micron's proven 96-layer 3D TLC NAND technology to increase the density and capacity while controlling costs and power usage
Sequential reads and writes up to 530/520 MB/s
Random reads and writes up to 90k/87k IOPS
A single-sided M.2 form factor, with capacities up to 1TB
A 2.5-inch form factor with capacities up to 2TB
Includes secure firmware
Optional AES XTS-256-bit encryption and Opal 2.0 standards for self-encryption can provide stronger protection of your important data.
Device sleep (DEVSLP) low-power modes extend battery life
Adaptive thermal monitoring
Interested in learning more about the Micron 1300 or another series of Micron SSDs? Reach out to speak with our Micron FAE about your specific application's requirements.
Looking for something a little different? Check out our Micron SSD Guide for an overview of all the currently available Micron SSD Series.
Series Part Numbers: