New for 2018: Micron's 5200 series SATA SSDs are Best-in-Class for Data Centers
Micron continues to raise the industry standard by designing and manufacturing innovative SSD technology.
Micron's 5200 series of SATA solid state drives (SSDs) is the upgraded, high-performance line of the popular 5100 series SSDs - known for their ability to store large amounts of data. With capacities of up to 8TB, and three different models (ECO, PRO, and MAX), the 5100 was already a leading choice for optimal performance and endurance when dealing with complex workloads.
The 5200 models consist of the same proven architecture as the 5100, but with newly engineered 64-layer 3D NAND technology.
Download the Micron 5100 Product Brief and compare to the Micron 5200 Product Brief.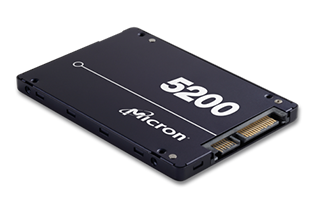 The Micron 5200 series comes in two models, ECO and PRO.
Every 5200 device comes with an adjustable Flex Capacity feature, allowing you to modify the endurance, performance, and capacity of the drive to meet high workload demands.
Micron's 5200 series offers users the best-in-class all-around performance and is a great enterprise storage solution to replace legacy SSDs and older hard drives.
Parts are ideal for data centers, cloud storage, OLTP, BI/DSS, virtualization, VDI, media streaming, and enterprise IT
Features & Benefits:
Adjustable Flex Capacity feature
Capacities up to 8TB
Hot pluggable, easy install
AES 256-bit encryption
Secure firmware
Multiple performance advantages
Series Part Numbers:
View the entire Micron 5200 product line.
Learn more, check out Micron's 5200 overview here.
Get in touch with Edge to discuss which 5200 best meets your project requirements.
In the market for a powerful NVMe storage solution for your data center? Learn about the Micron 9200 Series.