»
»
»
»
MTFDKCC1T6TFS-1BC15ABYY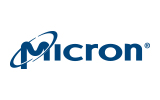 MTFDKCC1T6TFS-1BC15ABYY
7450 2TB U.3 SSD B47R
Manufacturer: Micron Technology, Inc.
The Micron 7450 series is available in three different form factors - E1.S, M.2, and U.3 - and incorporates the new 176-layer TLC NAND technology. The MTFDKCC1T6TFS-1BC15ABYY is one of the MAX drives, meaning that it is optimized for mixed read/write workloads. This particular SSD is available in the U.3 (15mm) form factor, has a capacity of 1.6TB, and is encrypted with TCG Opal.

Features:
∙ Built on the world's most advanced 176-layer NAND
∙ Yields read and write speeds up to 1 million IOPS
∙ Sequential performance up to 6800MB/s
∙ Delivers 2ms and lower latency for 99.9999%
Questions? Want to request a sample? Contact us today and we'll get you in touch with our Micron FAE.
Availability
Availability
Available stock
0

?

More in reserve stock

We may have stock in reserve for a project. Ask us, And we'll see if we can make it available for you.

No

?

Standard lead time

Lead times are subject to change. Contact us for a current estimated lead time for backorders.

Contact Us
Your Price

| | |
| --- | --- |
| Your Price | $360.87 each |