Designing a display into your new product? In order to get displays up and running quickly in our customers' projects, we've assembled a handful of LCD Quick Start Kits.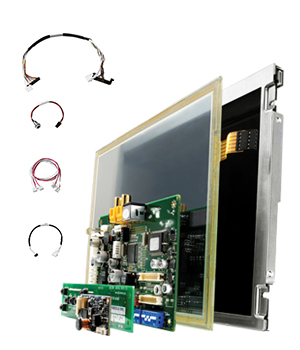 These complete, ready-to-use LCD solutions are composed of parts that we keep in stock for immediate shipping/availability. Of course, we can develop a custom kit with any display you are interested in, but there may be lead time associated with doing so. Visit our Complete LCD Kit Solutions Page to see a complete selection of other available LCD kit solutions.
The following kits are generally in stock and available for immediate delivery. Each kit includes the specified LCD and all the components needed to drive it, evaluate and design the display into your new project quickly and easily.
LCD Quick Start Kit Contents:
LCD
Controller Board
LED Driver (certain panels come with a built in LED Driver, so a separate driver will not be provided)
OSD Kit
12V Power Supply
Cables as necessary (LVDS, LED Driver Input, LED Driver Output, AC power cord)
Keep in mind, we can develop a kit for any display we offer.
Get in touch with us and we will help you get your display project up and running quickly and efficiently.