Introducing Our Selection of FHD Resolution Industrial LCD Panels with LVDS and eDP Interface Options
Edge Electronics is an authorized distributor of FHD resolution industrial TFT LCDs developed by leading industry manufactures including Tianma and KOE.
Our panel offerings range from sizes of 7" up to 18.5" and come in LVDS and eDP (embedded DisplayPort) configurations.
Traditionally, FHD LCDs were popular in gaming and graphics-heavy display applications, but more recently, these full HD resolution display offerings have become standard for medical, transportation, and other relatable industrial applications. Because they are manufactured for industrial applications, these LCD panels come with a minimum 5-year availability guarantee - which is necessary in these industries where engineering each piece of equipment is a major investment and stable product supply is necessary.
Full HD resolution panels allow for finer graphics and crisper images. FHD displays are highly regarded by manufacturers in industries where every detail is paramount, such as the medical, military and broadcast industries, or where consumers have very high expectations or are viewing high definition content such as the inflight entertainment (IFE) industry.
Features & Benefits:
Advanced IPS Technology (ultra-wide viewing angle)
High contrast ratio
High luminance
Dimming functionality
Long-life LED backlight
Long-life OEM
A number of the following LCDs feature an LVDS interface, which is much more engineer friendly than the MIPI interfaces of similar small high resolution displays.
The other available interface option is eDP, which is associated with super high performance display resolutions of 4k and beyond.
Learn about some of our FHD panels below or visit our LCD Panel Quick Spec Page to explore additional options.
This popular 7" full HD (FHD) resolution TFT LCD panel by KOE is an excellent choice for several industries including broadcast and home automation. It features an LVDS interface.
KOE's TX26D202VM0BAA possesses a higher resolution than standard FHD panels. It is has a pixel resolution of 1920 x 1200, which is classified as WUXGA (Widescreen Ultra Extended Graphics Array).
The NL192108AC18-02D has a built-in LED driver board with long-life LED backlights. It is a 9" panel with an LVDS interface.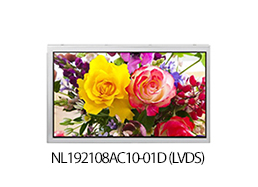 One of our most popular panels, the NL192108AC18-02D has an integrated LED driver board and LED backlights. It also features an extra thin, light weight design.
This 18.5" FHD is a super fine TFT LCD panel (SFT) with an LVDS interface.
An 11.6" full HD (FHD) LCD panel with an eDP (embedded DisplayPort) interface.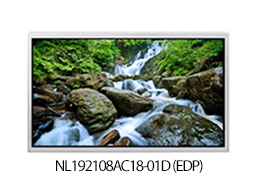 A 15.6" FHD panel with a light weight design and an eDP (embedded DisplayPort) interface.
An 18.5" full HD LCD panel with an eDP (embedded DisplayPort) interface.
Contact Edge today to learn more about including one of these panels in a Custom LCD Solution. Our LCD experts work with you to create the perfect kit for your project which could include a single board computer (SBC), an LCD controller, an LED driver, a touch screen integration, custom cables, and other enhancements. You can also request to see a demo or discuss unique requirements by contacting an Edge Electronics sales representative or engineer here.
Visit Edge Electronics (Booth 415) at the Los Angeles Convention Center during SID Display Week 2018 from May 22-24 to see demos of some of these FHD solutions (and more)!