Edge Electronics is an Authorized Distributor of FPGA Solutions by GOWIN Semiconductor
We are happy to announce that Edge can now provide you with GOWIN Semiconductor's high-performance FPGA technology. We are excited to be working with GOWIN to bring their patented non-volatile and SRAM based FPGA solutions to the American marketplace.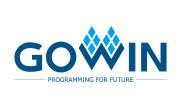 GOWIN is an industry leader in programmable logic devices and offers customers a quality selection of products, support software, reference designs, and development kits to quickly and easily enhance your latest design.
"GOWIN Semiconductor is a natural fit alongside our semiconductor and LCD solutions product offerings, both of which are geared toward serving North American industrial, medical and automotive OEM markets among others," says Michael Pollina, Edge Electronics' VP Operations & Procurement. "GOWIN's collection of development tools in tandem with Edge's engineering team will make it simple for customers to transition existing designs or start new projects with low power, space-efficient and cost-effective FPGA solutions."
Check out GOWIN's latest press release about their expansion into the Americas through Edge, as well as the first official announcement of the development of their new RISC-V Microprocessor IP.
Visit our FPGA page to learn more about our offerings.