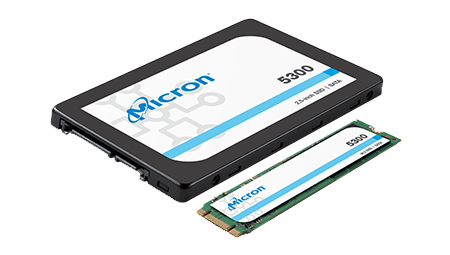 This Micron 5300 SATA SSD series is a brand new update to the Micron 5200 SATA series featuring the addition of the industry's first cost-effective, 96-layer, 3D TLC NAND. Another thing to note is that unlike the 5200, Micron's 5300 comes in two form factors, M.2 and 2.5-inch.
When compared to the previous model, the 5300 features improved performance, endurance, and a multiple year warranty making it an ideal enterprise storage solution for applications like streaming, analytics, OLTP, and block and object storage.
Interested in maximizing data performance and upgrading your application?
Reach out to talk to our specialized Micron FAE about the appropriate transition path for your current drive.
5300 MAX caches active datasets to accelerate throughput and reduce response times
5300 PRO delivers the capacity and results for tiered applications and workloads
5300 BOOT is a new model optimized specifically for boot drive applications to provide robust startup, while keeping data storage slots available

Features & Benefits:
Built upon Micron's innovation in 96-layer 3D TLC NAND, delivering data density with a strong price-performance ratio
Popular capacities from 240GB to 8TB. Market-friendly M.2 (22x80 mm) and 2.5-inch form factor options
Maximizes performance for read-intensive and mixed-use segments
TCG Enterprise, TCG Opal 2.0 to support on-device encryption for SEDs, AES 256-bit encryption, SATA ATA8 Security, Flex Capacity, power loss protection for data at-rest & in-flight, enterprise data path protection for user & meta data
Hot pluggable - easy to install
U.2 form factor at 7mm z-height. M.2 form factor at 22x80mm
More endurance with a 3 million-hour mean time to failure (MTTF) - 50% longer than the industry average
Micron Flex Capacity feature
"The Micron 5300 brings you the latest NAND technology with everything you expect from Micron's best-selling series of SATA SSDs. Featuring the industry's broadest product portfolio, best-in-class MTTF reliability ratings, and a long-term commitment in the enterprise SATA space, the Micron 5300 series of SSDs represents the best of the old and new. Get proven architecture, plus new NAND, features and models you need to power the future."
Looking for something a little different? Check out our Micron SSD Guide for an overview of all the currently available Micron SSD Series.
Series Part Numbers:
5300 BOOT - Read-Intensive, 1 Drive Write per Day (DWPD)
5300 PRO - Read-Intensive, 1-2 Drive Writes per Day (DWPD)
5300 MAX - Mixed-Use, 3-5 Drive Writes per Day (DWPD)
Ready to talk SSD solutions?