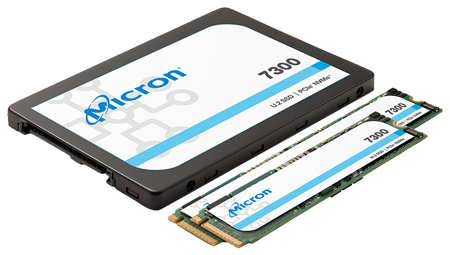 Say hello to the latest and greatest from Micron, the 7300 NVMe SSD. Optimized for high-performance and high throughput workloads, the Micron 7300 series of solid state drives has arrived to enhance your application.
The Micron 7300 Series is available in two form factors, U.2 and M.2 and comes in a number of capacities ranging from 400GB to 7.68TB. Shipment is planned for December, so take a look at the parts below to see the available specifications and contact us to speak with our Micron FAE or a sales expert for personal assistance selecting the best drive to meet your read-write requirements.
Not sure if the 7300 is the right fit, or looking for a SATA SSD? Edge Electronics is an authorized distributor of storage solutions by Micron. Visit our Micron SSD Guide for an overview of all the currently available Micron SSD series.

Features & Benefits:
Superior performance
Offers a full range of capacity points, from the rare 400GB all the way up to an 8TB-class
Optional dual port configuration (on the U.2 form factor), FW activate without rest, NVME-MI
High performance, low power consumption, and low TCO thanks to the use of high-density 96-layer 3D TLC NAND
End-to-end data path protection, power loss protection, secure firmware, AES 256-bit encryption, and Micron's standard enterprise SSD warranty
Sequential read and write performance of 3.0GB/s and 1.8GB/s
Micron says, "For enterprise IT and cloud managers who need the fast, low latency, consistent performance of NVMe SSDs, Micron delivers NVMe for the masses. The Micron 7300 Series of Mainstream NVMe SSDs maximizes flash storage in the data center for a wide spectrum of virtualized and I/O-sensitive workloads. Leveraging low power and the cost efficiencies of 3D 96-layer TLC NAND technology, the Micron 7300 SSD enables NVMe performance across mixed workloads. Get end-to-end NVMe, from mainstream storage (the 7300 SSD) to high-performance (our 9300 SSD) for your data center and cloud - even an NVMe enterprise boot drive."
Series Part Numbers:
7300 PRO - Read-Intensive, 1 Drive Write per Day (DWPD)
7300 MAX - Mixed-Use, 3 Drive Writes per Day (DWPD)
Ready to talk SSD solutions?